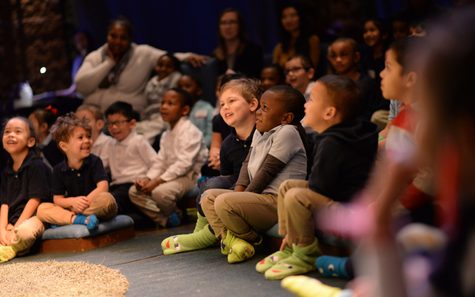 Field Trip FAQ
Student Matinee Performances
---
What time is the performance?
Weekday Student Matinee performances begin at 10:30am.
How long is the show?
Runtimes are subject to change throughout the rehearsal process as directors, designers, and actors start to tackle the script and material. Group Leads will receive an email with a more precise run time when that information becomes available for each production.
How much do tickets cost?
Thanks to grants and our generous donors, student matinee tickets are available at a significantly lower price than our public performances. Tickets start at $10 and are discounted even more for schools with 20% or more free and reduced lunch.
I'd like to bring a school group. What should I do?
We know that it is a lot of work to plan a field trip, so we keep it as simple as possible. Here's the reservation process:
Step 1: Choose your show and submit an online Ticket Request Form (linked at the top of each Field Trip show page).
Step 2: Six weeks before the show, confirm how many adults and students will be attending.
Step 3: Four weeks before show, submit payment via check or credit card.
Step 4: When you arrive, check in at the Ticket Office with your day-of-show headcount.
Step 5: Enjoy the show!
Can I buy a ticket day of show?
Due to COVID-19 precautions, Rush tickets will NOT be sold to parents, community members, or students NOT included in your school reservation to limit transmission.
Can we bring a homeschool group?
Absolutely! We require a minimum group size of 10 to make a school group reservation. Individual homeschool families can join the CTC Homeschool Program, which allows homeschool families to purchase student matinee tickets online.
How many chaperones can we bring?
We recommend a ratio of one adult per 15 students. We understand that some students require more help and supervision than others, and for that reason, you are welcome to bring up to a ratio of one adult per five students, plus special education support staff. Adult tickets in excess of that ratio are at an additional cost reflective of price without subsidy support.
Will you require audience members to wear a mask?
As of September 5, 2022, CTC recommends and encourages wearing a mask inside the theatre and in the lobby however, we no longer require masks.
Will you require performers to wear a mask during the performance?
Performers will NOT wear a mask during the show; however, we anticipate that all student and adult performers will be vaccinated.
Can we meet the actors?
Weekday Student Matinee performances features a brief (10- to 15-minute) Q&A with some of the actors and crew members. Private actor meet-and-greets can be scheduled for an additional fee.
Can we get a backstage tour?
We are occasionally able to offer backstage tours for an additional fee. Contact schools@childrenstheatre.org for more information.
Can we eat lunch there?
Yes, subject to availability. You may request to reserve lunch space following your performance for a fee. Groups may also utilize the outdoor courtyard between CTC and Mia at no cost. Full information about lunch space is available here.
Will the concession stand or gift shop be open?
No. The concession stand and gift shop are closed during all Weekday Student Matinee performances. If you'll need snacks, please plan accordingly, as there is nowhere to purchase snacks in close proximity to CTC.
How does Check-In work?
Check-In begins one hour prior to the performance. Your entire group must be present before you check-in. Group Lead must provide a final headcount of adults and students present day-of-show to receive a Check-In Pass. After your Group Lead receives the Check-In Pass, you will be directed to the lobby to be added to the seating queue.
How does seating work?
Seating begins approximately 30 minutes prior to the performance.
Group Lead gives Check-In Pass to the usher to be added to the seating queue.
Seating for Weekday Student Matinees is assigned by CTC ushers in order of group arrival. We cannot guarantee that families or friends within your group will be seated side-by-side, as your group may be split between rows. Seats cannot be saved for members of your group who are not present at the time of seating.
Please take the seats that are assigned to you by the ushers. You can rearrange seating within your group after it is confirmed that everyone has a seat.
Does everyone in my group need a ticket?
Yes. At CTC, all patrons, regardless of age, are required to have a ticket (including infants). Lap passes are available for students three years old and under for shows on our United Health Group Stage. Due to fire code and capacity, we are unable to provide lap passes for student matinee performances in the Cargill Theatre. Lap passes are $5 and can be purchased on the day of the performance.
What if there is a snowstorm?
During inclement weather, allow extra travel time. For details on Cancellation and Refund Policies, please refer to the Weekday Student Matinee Ticketing Policies that govern all Student Matinee performance sales.
What if plans change due to new COVID-19 restrictions?
In this uncertain time, we know that plans can change quickly. If circumstances change due to COVID-19, we are committed to rescheduling your CTC experience as soon as we are able to do so.