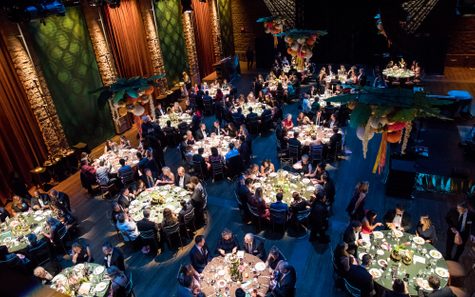 Event & Room Rentals
Host your next event at CTC!
Are you looking for a non-traditional event space for your upcoming corporate meeting, lecture series, private event or group dinner before the show?
We have multiple room rental options for any size and type of event. Our United Health Group Stage and Cargill black box theatre are dynamic and inviting spaces with full lighting, sound, and AV capabilities – all run by a professional technical staff. The lobbies of each theatre can also be used as primary or additional event spaces and we work closely with you to create a truly dynamic experience for your guests!
To inquire about rates and available dates, please contact production@childrenstheatre.org
Spaces
---

MacMillan Family Lobby
Comes with the Cargill Stage Rental
Can be used by itself as a reception area:
Seated reception: 60
Standing: 100
An open area with a stunning sculptural rotunda made from salvaged mill timbers

Cargill Stage
A beautiful, fully configurable, open space: 58' wide x 82' long x 27'high
'Theatre configuration' capacity with stadium seating installed: 298 seats
Maximum Capacities with stadium seating removed:
Standing reception only, allows for some cocktail tables and stage area: 500
Seated dining only, 12 to a table: 300
Seated dining with buffet, 12 to a table: 270
Many other configurations are possible and can be discussed with the Rental Coordinator.

Target Lobby
Comes with the UnitedHealth Group Stage Rental
Can be used as an event space without UnitedHealth Group Stage
Capacity of:
300 for standing reception
170 for seated dining
UnitedHealth Group Stage
A proscenium theatre that seats 747 guests
Available for lectures and meetings, mostly on Mondays.
At any time during the year there will be professionally designed scenery on stage serving as a fantastic backdrop to any event.
If a neutral stage is preferred, terms can be discussed with the Rental Coordinator.