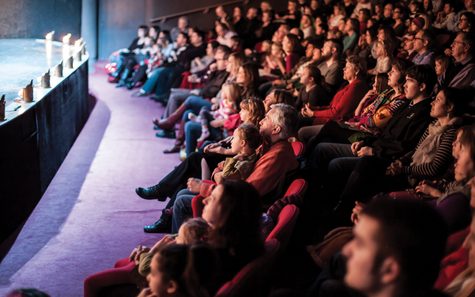 Families and Individuals
---
CTC's ACT Pass program increases equity and inclusion by providing accessible $5 tickets and Theatre Arts Training scholarships of up to 80% off tuition to audiences traditionally excluded from professional arts experiences due to economic disparities and hardship. Currently, the ACT Pass program includes over 2,000 families.
Eligibility for the ACT Pass program is established using free and reduced lunch household income guidelines, a statement of need, and recognition of other barriers to participation. Once approved, ACT Pass membership lasts for 2 years.

2023-2024 ACT Pass Performances
ACT Pass tickets for all productions this season are on sale! ACT Pass members will be notified by email if more are released.
Cookin': Sold Out!
Morris Micklewhite: Sold Out!
How the Grinch Stole Christmas: Sold Out!
The Carp Who Would Not Quit: Sold Out! (More coming soon!)
Alice in Wonderland: Sold Out! (More coming soon!)
A Year with Frog and Toad: Sold Out! (More coming soon!)
Babble Lab: Sold Out! (More coming soon!)
You can use your benefits on up to 6 tickets for any performance. Make sure you're logged into your account when purchasing; your discount will apply in your cart.
Learn more about all 7 shows here.
Restrictions: There is a limit of 6 tickets per household per title. The ACT Pass benefit is only valid on Section A and Section B seats, unless otherwise noted. 

ACT Pass Scholarships
ACT Pass Scholarships to Theatre Arts Training classes and camps are available on a first-come, first-serve basis. All you need to do is log into your account, register for your chosen class or camp, and your ACT Pass benefit will apply in your cart.
If you have questions about class availability or scholarship needs, please contact the CTC Ticket Office at 612.874.0400.
Restrictions: There is a limit of one scholarship per student per Fall, Winter, Spring, or Summer in-person education season. Scholarships are NOT available for Individual Coaching packages. 

CTC invites eligible organizations directly serving low income youth, mentors, and families to become an ACT Pass Community Group!
Eligible ACT Pass Community Groups may access select performances and coordinate families to attend a show together, as a group. ACT Pass group ticket orders require 10 or more participants and cost $5 per ticket.
Restrictions: Because we also have an accessible student matinee program, school groups and school-based parent associations are not eligible for the ACT Pass to public shows. There is a limit of 50 tickets per order. 
FAQs
---
How do I purchase ACT Pass tickets?
Log into your account before selecting your dates and seats.
Select adult, child, or senior tickets in Section A or B.
Select the "Add to Cart" button below the seating chart when you're ready to review your purchase.
When you get to your cart, you'll see your discounted price displayed!
Is there a limit to how many tickets I can purchase?
To ensure access to as many ACT Pass members as possible, there is a limit of 6 tickets per household, per production. Tickets may not be purchased by non-ACT Pass families. We do track usage throughout the season. ACT Pass members who purchase beyond the ticket limit risk expulsion from the program.
The production I want is sold out – what can I do?
Stay tuned to your email during the season – we'll email when more tickets are released for productions!
I can't make my show! What can I do?
ACT Pass tickets are exchangeable up to 24 hours prior to your performance. Give us a call, or log into your account to exchange!
I'm not getting any emails from you – what can I do?
You may have unsubscribed from CTC emails! Send us an email at tickets@childrenstheatre.org, and we can verify if your email is still valid on our mailing list.
I require access to Audio Description and/or American Sign Language interpreters!
We offer ASL/AD performances for all productions. Please look for the "ASL" and "AD labels on performances on our calendar!
How do I register for more than one child? What if I know we want to take a class or camp in every session?
You may only register for one student, one class, and one session at a time. If you would like to register for an additional class or camp, an additional session, or another child in your household, complete your first order including payment, then start a new order.
Please note: ACT Pass holders are eligible for 1 class per student per school year session and 1 full-day week of camp per student during summer. If more funds are available closer to the start of the session, we sometimes allow ACT Pass holders to register for additional classes and camps. If this is the case, we will notify you via email.
What if my child's first choice class or camp is full?
When a class or camp is full, a waitlist will be posted. Please join the class or camp waitlist and register for a second choice class or camp. If space becomes available, we may be able to transfer your scholarship to your first choice class or camp.
What if all scholarship funds have been allocated for a session?
When we are out of funds for a given session, scholarships will be turned off for that session. Two weeks before the session begins, all ACT Pass families will receive an email notifying them of available classes and camps available on the ACT Pass for that session.
My student is interested in an audition-based program. How does that work?
ACT Pass scholarships are always available for audition-based programming. Sign up for an audition. If cast, call the ticket office to apply your scholarship to program tuition. If you would like to hold a spot in a non-audition class or camp in case you are not cast, please register and pay. If cast, we can transfer any paid tuition toward the cost of the program in which you were cast. Please note: being an ACT Pass holder will not impact casting decisions.
How will I know what performances are available?
ACT Pass community group leaders will receive emails for shows throughout the season with available performances to Community Partner groups. Community partners may reserve and coordinate group trips for at least 10 and no more than 50 youth, mentors, and families served by their organization.
You can also email Andrei Haberer, Ticket Office Performance Supervisor, at ahaberer@childrenstheatre.org, at any time during the season to see what's available.
How do I reserve tickets?
Email Andrei Haberer, Ticket Office Performance Supervisor, at ahaberer@childrenstheatre.org, with your organization name and address, preferred dates(s), group size, and any accessibility needs/requests.
How do I submit payment?
Final reservations and payments are due 2 weeks after booking, or 10 days prior to your performance, whichever is sooner.
Can I exchange tickets?
ACT Pass Group tickets are not exchangeable.