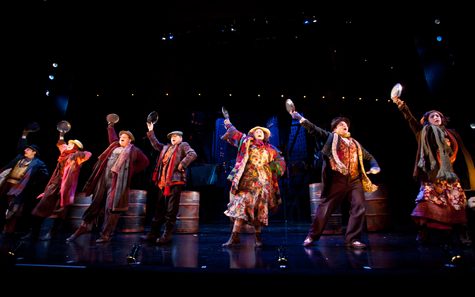 General Information
---
All Adult and Youth auditions for Children's Theatre Company shows are listed here and on MinnesotaPlaylist.com. CTC is an Equal Opportunity Employer. We advocate for diversity throughout the organization and strongly encourage applications from members of traditionally underrepresented groups.

Adult Auditions
Auditions for adult Equity and non-Equity actors are held periodically throughout the year. Preparation is needed and based on the specific needs of each production. Adult actor positions are paid.
Youth Auditions
Auditions for youths (student actors) between the ages of 8 and 18 are held at various times during the year depending on the needs of each production. Typically, we hold auditions anywhere from 6-9 months in advance of the production's first rehearsal. Our auditions for student actors are usually group-style format. Each audition notice will detail the specifics of who we are looking for, what the actor will do (e.g. sing, dance, monologues, etc.) and how to schedule an audition. All auditions are by appointment only. The student actor positions are unpaid.
TAT Auditions
Some Theatre Arts Training classes and camps require an audition before enrolling.
Auditions Listing
---
Casting Call
MORRIS MICKELWHITE AND THE TANGERINE DRESS
At Children's Theatre Company (CTC)
By juliany taveras
Directed by Heidi Stillman
Call for youth age 10 and up who are around or under 5 feet tall.
Open to any ethnicity/race, but particularly seeking BIPOC student actors.
THE SHOW
Morris likes lots of things: doing puzzles, pretending to be an astronaut, and wearing a tangerine dress from his school's dress-up box. But some of his classmates think boys can't wear dresses… Join the imaginative Morris and his space-animal friends as they travel the galaxy in search of an answer to the all-important question: "Do astronauts wear dresses?"
This play is an adaptation of Morris Mickelwhite and the Tangerine Dress by Christine Baldacchino and Isabelle Malenfant.
All of the characters will also play "Safari Animals" through movement and possibly puppetry.
There might be some singing, but this is not a musical.
This production takes place on our Cargill Stage which seats up to 298 people per performance.
Content Advisory: Morris gets laughed at and teased for wearing a dress. Morris feels nervous about returning to school because of this.
REHEARSAL/PERFORMANCE DATES
1st Rehearsal:
September 5, 2023

Hours TBD, but likely Wednesday-Friday 4:30-9:30pm & Saturday 10:00am-7:00pm

Tech:
October 4-14, 2023

Hours TBD, but likely 8–10-hour days including Preview Performances

1st Preview:
October 10, 2023
Open:
October 14, 2023

Once open, there will be 8-10 performances per week, including school matinees.

Close:
November 19, 2023
We rehearse/perform Wednesday-Sunday – after school and all day on the weekends. There would be an eight-week period in which students would be required to work with their schools to be out of school during our technical rehearsals and for student matinee performances. For the technical rehearsals (October 4-14) they would be able to attend school in the morning – likely needing to be at the theatre by 11:30am. For the student matinees (October 25-December 17), they would be called at the theatre from likely 9:30am – 12:30pm Wednesday through Friday.
THE AUDITION
WHAT TO PREPARE
Sides provided by the theatre in the Audition Form Link below.
A short song to be sung acapella (no more than 1 minute).
Dress to move.
CASTING
We are casting youth age 10 and up who are around or under 5 feet tall of any ethnicity/race, but particularly looking for BIPOC student actors. See below for more details:
Morris – small child, big heart. A dreamer. Lover of yummy snacks & enticing sounds.
Henry – aspiring astronaut, but a little exclusionary, as far as explorers go. (tsk. tsk.)
Eli – aspiring astronaut, a little less sure of his exclusionary convictions.
Becky – she seems to think only girls can wear dresses. (she's wrong.)
Lila – she seems to think only girls can wear dresses. (she's wrong.)
The role of Morris will be double-cast – both actors will be called to all rehearsals, but will share performances equally.
All other roles are understudied. We will also be casting 2 youth understudies.
AUDITION DATES
INITIAL AUDITION: Saturday, April 15 – 9:00am-12:00pm (there will be individual appointments of 10min)
CALLBACKS: Sunday, April 16 – 9:00am-12:00pm (you will be contacted if you are needed for a callback)
We will be holding these auditions in person at the Children's Theatre Company at 2400 Third Avenue South/Minneapolis 55404.
The auditions will take place on our Cargill Stage. Please enter through the main doors and follow the signs.
We will be following our COVID protocol for these auditions – everyone will be masked. More information will be sent closer to the audition date.
Actors will read from scripted sides with a reader in the audition room (links to these sides are in the audition form).
SIGN-UP INSTRUCTIONS
Please follow this link to fill out an Audition Form.
In this form will be a link to Sign-Up Genius to secure an audition slot.
In this form there will also be links to scripted sides to prepare.
To ensure the safety of our company and audiences from COVID-19, we will follow all CDC guidelines, along with Equity approved protocols throughout the production period. All company members must be fully vaccinated and boosted if eligible by August 1, 2022 and provide proof of vaccination.
CTC GENERAL CASTING STATEMENT
Children's Theatre Company is actively recruiting and seeking performers from under-represented communities including, but not limited to, people of color, performers with disabilities, and LGBTQ performers for all casting, recognizing the value and importance of reflecting the diversity of our audience on stage.