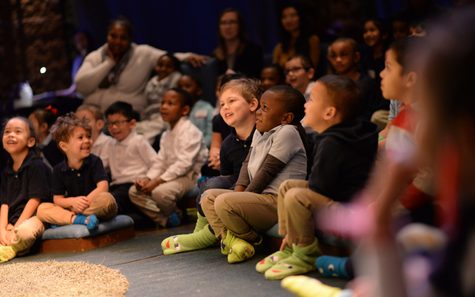 Justice, Equity, Diversity, and Inclusion
Land Acknowledgement
---
Children's Theatre Company acknowledges that the theatre was established on land that the Wahpekute Tribe of the Dakota nation still calls home. Around the year 1600, the Wahpekute were a wandering people who landed in Mni Sota Makoce (Land Where the Waters Reflect the Clouds—and the people's roots here remain strong). They are a part of the Dakota Seven Councils of Fire, which include the Mdewakanton (Dwellers by the Sacred Lake), Sisitonwan (People of the Marsh), Wahpetonwan (Dwellers Among the Leaves), Ihanktown (People of the End), Ihanktowana (People of the Little End), Tetonwan (People on the Plains), and Wahpekute (Shooters Among the Leaves).
The early Wahpekute depended on hunting, fishing, and gathering. They lived near the Cannon and Minnesota Rivers and assisted other tribes in hunting on their land. They wintered in the slightly warmer climates along the Des Moines River that also served as their hunting grounds.
Around this time, European explorers and traders began coming into Minnesota in a steady stream. They had been told that no one lived west of the Mississippi. Those looking to settle and build homesteads on the land followed the explorers and negatively impacted the Dakota way of life. This caused tension between the natives of the land and those looking to expand the European Territory.
In July and August of 1851, the Dakota and the United States signed two treaties that gave the United States most of the Dakota land for $3,750,000 (about 12 cents an acre) to be paid in installments. Little of that money was ever received. These treaties left the Dakota population with only U.S.- designated reservation land along the Minnesota River. The Dakota, a hunting people, had no choice but to farm. After a crop failure in 1861 and an extremely harsh winter, the Dakota were hungry and destitute. In the summer of 1863 tensions between Dakota, the traders, and the settlers erupted into the Dakota War that lasted over one month ending with recorded casualties of more than 358 settlers, 77 soldiers, and 29 armed civilians. Dakota deaths were not recorded. After nearly 400 military trials in six weeks, 303 Dakota men were sentenced to death. President Abraham Lincoln reviewed the convictions and approved death sentences for 39 of the men.  On December 26, 1862, 38 Dakota men were hanged in Mankato, Minnesota. This was the largest one-day mass execution in American history.
Today, Minnesota is a vibrant and diverse state with the history and influence of the Dakota people woven throughout. We honor and respect the many Indigenous People still connected to this land. We acknowledge that we have benefitted from systems that have hoarded power and marginalized Indigenous Nations, communities of color, the LGBTQIAP+ community, people with disabilities, women, children, and all who meet at the intersections. Children's Theatre Company (CTC) acknowledges that we are now stewards of the land the Wahpekute People of the Dakota Nation were largely driven from. We acknowledge that as storytellers it is our duty to recognize that the narratives of this region have long been told from one dominant perspective without acknowledging those whose narratives began before. It is our responsibility to the Dakota Nation, our staff, our board, our audiences, and our artists to collectively honor their lives amplify their voices, and reimagine our future.
Anti-Racism Anti-Bias Statement
---
Children's Theatre Company is committed to recognizing, addressing and eliminating all forms of racism, ethnic oppression and biases on our stages, in our staff, and on our board. We understand that bias can be unconscious or unintentional and that racism is the combination of social and institutional power plus racial prejudice. We acknowledge the historical legacy of exclusion and marginalization in theatre. We are committed to providing a just, equitable, diverse, inclusive, and accessible space for every member of our community.
CTC will work to:
Take a proactive approach to eliminating biases and/or racism in our daily interactions
Restructure our systems to eliminate barriers to access that are visible and invisible
Engage in ongoing and intentional anti-bias and anti-racist learning to understand personal biases and privileges
Reflect the diversity of our community in the stories we tell on our stages.
Transform our recruitment, hiring and retention efforts.
We know that this work is ongoing and evolving. We look to our community and ourselves for accountability as we strive to be a theatre everyone can bring their full authentic selves.
Children's Theatre Company's Response to the We See You White American Theatre Demands
---
To the signers of the WE SEE YOU WHITE AMERICAN THEATRE statement, collectively known as THE GROUND WE STAND ON, we would like to say thank you. Thank you for finding a place of stillness amidst a pandemic and in the aftermath of the killing of George Floyd by police officers here in Minneapolis. Thank you for composing a list of thoughtful demands and actions. We know and appreciate that this document radiates from a place of love for theatre, protection for the vulnerable, and dedication to the truth.
We at Children's Theatre Company would like to say we hear you, we see you, and we thank you for your patience with and dedication to our institutions. We take these demands seriously. We will continue to hold ourselves publicly accountable. As a theatre dedicated to multigenerational audiences, we understand how important it is for young people to see themselves and their experiences reflected on our stages. We know that change has to happen in the minds of the young who will lead our nation into the future. We commit to being the change we want them to see.
We have thoroughly and comprehensively discussed each one of these demands and actions to develop a response that is intentional, expansive, and action-oriented so we can move forward with transparency, accountability, and a commitment to continuous improvement toward being an anti-racist theatre. The actionable steps CTC will take fall into four areas:
ARTISTIC & PRODUCTION
As a generator of new work for multigenerational audiences, at least 50% of our commissions will continue to be with BIPOC artists with the goal that at least 50% of the productions on CTC stages will center BIPOC perspectives.
We will continue our commitment to cast BIPOC performers in at least 50% of the roles on our stages.
During our discussions, we realized the Justice, Equity, Diversity, and Inclusion path we have been on has helped us form equitable partnerships with BIPOC theatres with whom we work. CTC will continue to support our fellowship program that partners us with the theatre program at the HBCU Howard University. The Howard Fellowship works to increase the number of Black leaders in theatre. Additionally, our Performing Apprentice Program continues to increase the number of working BIPOC artists in the Minnesota theatre community.
CTC is committed to developing a BIPOC Fellowship/Apprenticeship program that will add three additional opportunities to these existing fellow/apprenticeships for a total of six annual BIPOC Fellows.
CTC commits to eliminating the practice of "10 out of 12" technical rehearsal days as we restart live performances.
We do not identify our stages as main stage, or second stage and we practice pay equity on both our stages. We produce BIPOC stories on both stages.
OPERATIONS
We are committed to working towards having at least 30% of our full and part time staff be BIPOC.
Since 2015, CTC has had a senior leadership position that centers justice, equity, diversity, inclusion, and accessibility in the organization and redesigned our approach to partnerships. We are committed to continuing this.
CTC will continue to transform our recruitment, hiring, and retention efforts for a more just and equitable theatre. CTC has worked to decolonize our job descriptions by eliminating unnecessary requirements, adding justice, equity, diversity, inclusion, and access requirements to each description, and including the Director of Community Partnerships and Inclusion and other BIPOC staff members as part of every interview process. CTC will ensure that this will not be added labor but part of the regular workday for these staff members.
We have also begun the practice of including salary ranges on our job postings.
We strive to assemble a truly diverse pool of BIPOC candidates for every position. We have eliminated the Rooney Rule as part of our hiring practices.
CULTURAL COMPETENCY
CTC commits to a dedicated budget line item for anti-racism, justice, equity, diversity, and inclusion training at all levels of the organization. This ensures that all full-time, part-time staff and volunteers will benefit from this training.
CTC has created the following committee and task forces to increase the cultural competency of our organization and incorporate many of the actions you articulated:

The Land Acknowledgement Task Force will recommend how we move forward in not only acknowledging the theft of the land from indigenous peoples as well as the land enslaved Africans toiled on but also the next steps in bringing justice to those who were wronged.
The ACT ONE Training Task Force will use our ACT ONE statement and these demands to center Justice, Equity, Diversity, and Inclusion and Anti- Bias and Anti-Racism training for board, leadership, and staff.
The Lobby Experience Task Force will determine how we can use our lobby to tell the stories of Black, Indigenous and People of Color to educate, challenge, and inspire our audiences. This work will be done in partnership with local and national BIPOC organizations.
The Anti-bias Impact Advisory Committee has been revived to not only review scripts for biased and racist content but also to review the practices of the creative and administrative sides of the organization and make recommendations to further our commitment to combat bias and racism.

CTC is committed to long-term, mutually beneficial, equitable partnerships that begin with conversations and grow at the speed of trust. The partnerships are concentrated in BIPOC communities, the LGBTQIAP+ community, institutions that serve families low on the economic spectrum, and people with disabilities.
We will continue to have a safe, exclusive, and affirming affinity space for BIPOC staff members called THE COLLECTIVE, which has been a part of our organization for the past four years.
GOVERNANCE AND STRATEGY
CTC is committed to working towards 30% BIPOC representation on our Board.
Our Board Diversity, Inclusion, and Human Capital has been actively reviewing the governance related demands and actions and is preparing recommendations to the full board.
This statement is a living document which we will continue to update and is not a comprehensive list of all of our anti-racist work. We have had a long commitment to making our theatre a home for all people and all families most recently through our ACT One program. ACT ONE is CTC's cohesive platform for access, justice, equity, diversity, and inclusion in our audiences, programs, staff, and board. CTC has also signed on to the Anti-Racist and Anti-Oppressive Futures for Theatre for Young Audiences as part of TYA-USA. We recognize the work of anti-racism consists of deeds and discoveries. We understand as we learn more, we must do more.
For over 500 years we have seen systemic racism perpetuate a single, thin narrative of America. We commit to the work of anti-racism to release the stories and individuals chained by oppression. We recognize the magnitude of work before us and the magnitude of work done to get us here. We thank you again, the writers and signers of the WE SEE YOU WHITE AMERICAN THEATRE demands for entrusting us with this task.
ACT One
Access. Connect. Transform.
---
ACT One is a promise to ourselves and to our community
ACT One is CTC's cohesive platform for access, justice, equity, diversity, and inclusion in our audiences, programs, staff, and board. Three interdependent words of action guide our commitment to a future when our theatre is a home for all people and all families, reflective of our community: Access, Connect, Transform.
CTC believes that the theatre can be a powerful force to illuminate connections, create common bonds, and transform lives by building bridges to empathy, understanding, inclusion, and opportunity. Historically, many have been excluded from participating in the theatre due to implications of racism, discrimination, bias, and classism. The cost of tickets, accessibility for those with disabilities, and a lack of welcome and invitation to communities of color have created further barriers, both real and perceived.
As the national leader in the field of theatre for young audiences and their communities, CTC recognizes the urgent need to address these past injustices and inequities on an institutional level. ACT One is our plan to accomplish this internal and external transformation.
CTC will measure success when our audiences, classes and camps, staff, artists, and board include more people from a wider range of:
Economic Status
Peoples of Color
People with Disabilities
Sexual Orientation and Gender Identity
Access
---
The goals of CTC's access programs are to identify and mitigate visible and invisible barriers to participation for all underserved populations, including cost, transportation, accessibility, and language. Our annual reach through our access programs is 80,000, more than one-third of our audience each season.
Connect
---
CTC will increase the number of deep and ongoing partnerships that we have in the community. Community partnerships build mutually beneficial, sustainable relationships between CTC and our ever-changing community. Over 5,000 attendees each season come to us through connections with diverse service organizations in our community. Every community partnership begins with honest discussion of the needs of both organizations, and blossoms into co-learning and collaboration through trust building.
Transform
---
CTC will transform into a more just and equitable organization. To stay vibrant and true to our vision, CTC will regularly assess our established practices, messaging, and habits to see how and where we must change. CTC will foster a culture of curiosity that confronts overt and obscure discrimination and exclusion, and celebrate equity in our work, our audience, and ourselves. Live theatre offers us different perspectives from our own, reminds us that we are not alone, and helps to promote social discourse, dialogue and social justice. CTC is committed to being an agent of change both internally and externally.
Building upon the strengths of past and present work, ACT One moves forward as a cohesive platform to deepen and expand our initiatives, transform CTC and our community, and be the future we imagine.
Metrics for Achieving ACT One Success
Success will be measured when every area of our institution represents and includes a wider range of economic status, race, ethnicity, people with disabilities, sexual orientation, and gender identity, and when we know our work's relevance to our community.
ACCESS: CTC's audience will mirror the demographics of the State of Minnesota.
CONNECT: Each year CTC will continue to build diversity in our audiences by creating sustainable and mutually beneficial relationships with community organizations that serve all of our ACT One communities and increase their attendance through our ACT Pass program for families and groups.
TRANSFORM: Transformation requires dedication, time, hard work, and commitment. CTC invites all staff, artists, audience, board, and community members to join us in ACT One: the creation of a more accessible, diverse, and inclusive Children's Theatre Company. We will measure this transformation in three ways:
OPERATIONAL IMPROVEMENT: We will measure this by the Adoption Method, making sure that the department of CTC most in need of the tools we learn from our partners is using it and how it is transformed by it. Each tool may need its own metrics of measurement.
PATRON EXPERIENCE: It is important that new patrons not only feel welcomed into our space, but also feel affirmed in the space. We will accomplish this by working with our community partners to identify areas of focus to help lead the transformation methods. Once we have done the necessary transformation, it is with input from our patrons as well as our partners that will help us measure the effectiveness of these methods. We aim to gain valuable feedback from our patrons through observation from Audience Services personnel, patron experience surveys, and direct positive feedback from patrons.
ATTENDANCE IMPACT: When we open the door wider, it is important that everyone who wants to come in does.