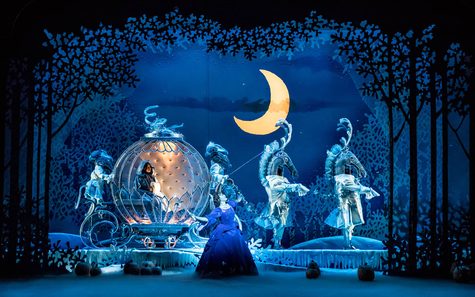 Children's Theatre Company (CTC) is the nation's largest and most acclaimed theatre for young people and serves a multigenerational audience. It creates theatre experiences that educate, challenge, and inspire 250,000 people annually. CTC is the only theatre focused on young audiences to win the coveted Tony Award® for regional theatre and is the only theatre in Minnesota to receive three Tony® nominations (for its production of A Year with Frog and Toad). CTC is committed to creating world-class productions at the highest level and to developing new works, more than 200 to date, dramatically changing the canon of work for young audiences. 
CTC is the most significant provider of accessible theatre education opportunities in the region. Every year, thousands of children experience theatre for the first time at CTC. Our student matinees and education programs demonstrably benefit the community, from the intergenerational conversations sparked by our world premieres, to the sequential skill-building that happens in our Theatre Arts Training, to the pre-K focus of our Early Childhood Initiative. ACT One is CTC's comprehensive platform for access, diversity, and inclusion in our audiences, programs, staff, and board that strives to ensure the theatre is a home for all people, all families, reflective of our community.

Mission
Children's Theatre Company creates extraordinary theatre experiences that educate, challenge, and inspire young people and their communities.

Vision
We unleash the power of curiosity, empathy, and imagination.

Values
Imagination
Excellence
Respect
Inclusion
History
---

Children's Theatre Company began as The Moppet Players, a small company, which produced creative dramatics, dance and theatre for children. In 1965, The Moppet Players moved into Minneapolis Institute of Arts and in 1975 was incorporated as Children's Theatre Company. The Theatre's reputation was built on a history of adapting classic children's literature and storybooks, in addition to its extraordinary accomplishments in the areas of scenic and costume design. Today, CTC is recognized as North America's flagship theatre for young people and families as well as a major cultural and artistic resource in Minnesota. CTC has been dedicated to advancing the art of theatre for families and young audiences for over 50 years.

Child Safety Policy
Children's Theatre Company has zero tolerance of child abuse. As an organization that primarily serves children, our highest priority is child safety. It is the policy of CTC to diligently empower and protect Youth by providing safe spaces for theatre education and experiences. We work every day to ensure our policies, procedures and practices embody the highest safety standards for the young people that we serve.
For questions or inquiries, please contact the Managing Director at kmotes@childrenstheatre.org.
Contact Us
---

Ticket Office
612.874.0400
tickets@childrenstheatre.org
Tuesday-Friday: 1pm-6pm
Saturdays: 11am-3pm
Open for in-person visits during these hours.
Theatre Arts Training Office
612.872.5100
education@childrenstheatre.org
Mailing Address
Children's Theatre Company
2400 3rd Ave. S
Minneapolis, MN  55404
On our mailing list?
Sign up to learn about upcoming events, get insight into the artistic process, be the first to hear about deals and special offers, and much more!