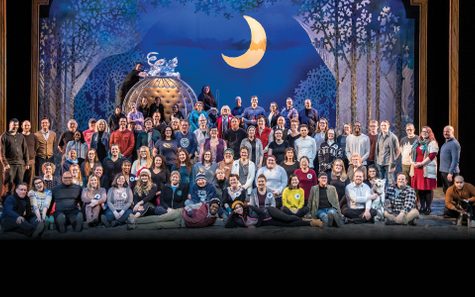 Staff
---
Artistic Director | Peter C. Brosius
Managing Director | Kimberly Motes
Executive Assistant | Jen Johnsen
Artistic
Associate Artistic Director/Director of Community Partnerships and Inclusion | Michael Winn
The Acting Company | Gerald Drake, Dean Holt, Autumn Ness, Reed Sigmund
Music Director | Victor Zupanc
Performing Apprentices | Rue Norman, Glenn Williams II
Casting Director | Traci Shannon
Artistic and Equity Coordinator | Josephine Yang
Generation Now Fellow | Patric Verrone
Production
Director of Production | Ellen Baker 
Production Management Fellow | Skye Reddy
Company Manager | C. Ryan Shipley
Production Stage Manager | Jenny R. Friend   
Stage Managers | Kathryn Sam Houkom, Todd Kalina, Stacy McIntosh, Nate Stanger, Chris Schweiger   
Stage Management Fellow | Jiccarra N. Hollman
Student Actor Supervisor | Bridget Brooks   
UnitedHealth Group Head Stage Carpenter | Charles Fillmore  
Cargill Head Stage Carpenter | Melissa Johnson
Run Crew | Taylor Engel, Melissa Johnson, Rick A. McAllister, David Pisa, Ashley Stock
Technical Director | Adriane L. Heflin
Assistant Technical Director | Kelly Pursley   
Head Carpenter | Bradley Holmes   
Carpenter/Drafter |John Stillwell
Carpenters/Welders | Matt Arcand, Steve Kath, Dan Norman, Kris Paulson   
Charge Artist | Mary Novodvorsky 
Scenic Artist | Lizzie Tredinnick
Costume Director | Amy Kitzhaber   
Costume Assistant | Lucie Biros
Cutter/Drapers | Mary Gore, Alexandra Gould  
First Hands | Carol Lane, Jody Rosquist   
Crafts Artisan | Randy J. Rowoldt  
Painter/Dyer/Crafts Artisan | Michele Lanci
Head of Wig & Makeup | Emma Gustafson  
UnitedHealth Group Stage Wardrobe Head | Andi Soehren   
Wardrobe Assistants | Jennifer Probst, Emily Jannusch  
Props Director | Sue Brockman   
Props Artisans | Katie Albright, Christopher Engstrom, Amy J. Reddy   
Lighting & Video Director | Matthew Gross   
Head Electrician | David A. Horn   
Staff Electrician | Carl Schoenborn  
Light Board Programmer/Operator | Jeremy Ellarby
Electricians | Mark Kieffer, Paul Epton  
Sound Director | TBD   
Head Sound Engineer/UnitedHealth Group Stage Sound Board Operator | Rick Berger   
Cargill Stage Sound Board Engineer/Operator | Sean Healey
Deck Audio Technician | Ryan Healey
Education
Director of Education | Ann Joseph-Douglas
Theatre Arts Training Manager | Amanda Espinoza
School Engagement Coordinator | Claire Bancroft Loos

Resident Teaching Artists | Johanna Gorman Baer and Kiko Laureano
Education Fellow | Julia Gams
Neighborhood Bridges Founder | Jack Zipes
Teaching Artists | Aimee Bryant, Alex Hagen, Andrew Fleser, Bre'Elle Erickson, Chris Zappa, Claire Chenoweth, Sara Fienberg, Hawken Paul, Jack Stetler, Jeffery Nolan, Jen Scott, Jesse Schmitz-Boyd, Johanna Gorman Baer, Kiko Laureano, Laura Delventhal, Laurie Flannigan Hegge, Megan Kelly Hubbell, Natavia Lewis, Neco Pacheaco, Nick Husted, Stephen Oberhardt, Sara Sawyer, Sarah Arnold, Tally Lee, Willis Weinstein, David Hanzal, Eli Sibley, Dominic DeLong-Rogers, Wesley Hortenbach, Anne Sawyer, Maggie Cramer, Hannah Bakke, Ben Lohrberg, Leah Jensen, Alli St. John
ACT One
Associate Artistic Director/Director of Equity and Community Partnerships | Michael Winn
Artistic and Equity Coordinator | Josephine Yang
ASL Interpreters | Breanna Boyce, Maria Dively, Cheryl Fielitz, Tamajai Grady, Shelly Lehner, Jules Lehto, Hannah Merren
Audio Describers | Elana Center, Connie Fullmar, Laurie Pape Hadley, Laura Wiebers
Administration
Chief Operating Officer | Ryan French
Facility Systems Manager | Anthony White
Safety and Security Supervisor | Adam Scarpello
Safety and Security Associates | Anna Fremont, Aster Kander, Jack Stetler, and Jori Walton
Human Resources
Director of Human Resources | Andrew Robertson
Finance
Director of Finance | Jill Jensen
Payroll and Benefits Administrator | Senait Asfaha
Accounting Associate | Libbie Bonnett
Patron Services
Patron Experience Manager | Mon Cherie Chandler
Front of House Performance Supervisors | Gwendolyn Glessner, Sara Klaphake, Molly Sullivan, Jori Walton
Concessions Leads | Linnea Dahlquist, Asher de Forest, Rebekkah Schultz     
Front of House Associates | Ben Anderson, Marion Anderson, Wren Clinefelter, Shayla Courteau, Sarah Dayer, Em Engler, Maz Her, Ash Higbee, Dan Howard, Carter Jensen, Basil Matthes, Lily McCann, Emery McElin, Sophia Nelson, Ella Rios, Suzanna Robinson, Devon Smith, Aiden Stark-Wolff, Genia Voitsekhovskaya, Ashely Wims
Development
Director of Development | Katie Nelsen, CFRE   
Associate Director of Development, Institutional Giving | Jill Underwood   
Donor Communications and Special Events Manager | Suzy Q. Piper   
Corporate Engagement Manager | Ranosha Coffelt
Annual Fund Manager | Vera Lochtefeld
Development Data Assistant | Katlyn Moser
Marketing & Communications
Director of Marketing and Communications | Chad Peterson   
Associate Director of Communications | Jonathan White
Associate Director of Marketing | Julia Nicholas
Design & Digital Manager | Kaitlin Randolph
Design & Digital Assistant | Adán Varela
Design & Digital Intern | Ryan Brook
Ticketing Services
Tessitura Systems Administrator | Lauren Edson
Ticket Office Manager | Josh Vosberg
Ticketing Performance Supervisor | Andrei Haberer, Andrew Gaffney, and Molly Miller
Ticketing Associates | Esteban Rodriguez, Theodore Kidd, Lior Perlmuter, Lukas Brasherfons, Carrie Jones, RJ Massie
Plays for New Audiences
Director of Plays for New Audiences | Karli Jenkins
Acting Company
---
Children's Theatre Company is one of few professional regional theatres to employ a full-time professional resident acting company. CTC's accomplished acting company is comprised of Gerald Drake, Dean Holt, Rajane Katurah, Autumn Ness, and Reed Sigmund. 
CTC acting company members, all members of Actors Equity Association, were hand-selected for their talent and versatility and are cast in CTC productions throughout the season.  
Board of Directors
---
Officers: 
Chair: Silvia M. Perez | President, Commercial Solutions Division, 3M
Vice Chair: Stefanie Adams | Principal, Director of Client Service and Marketing, Peregrine  
Vice Chair: Steven J. Thompson, Vice Chair | Community Leader, NorthStar Healthcare Advisors 
Vice Chair: Adebisi Wilson | Partner, Ward & Wilson, P.C.     
Treasurer: George Montague | Chief Financial Officer, Nuwellis, Inc. 
Secretary: John W. Geelan | General Counsel & Secretary, Piper Sandler Companies  
Members: 
Kelly Baker | Executive Vice President and Chief Human Resources Officer, Thrivent 
Tomme Beevas | Founder and Chief Strategic Officer, Pimento Jamaican Kitchen  
Ellen Bendel-Stenzel, MD | Assistant Professor of Pediatrics, Mayo Clinic College of Medicine, and Science 
Michael Blum | Vice President, Assistant General Counsel, Stanley Black and Decker, Inc.  
Amanda Brinkman | CEO and Chief Creative Officer, Sunshine Studios 
Morgan Burns | Partner, Faegre Drinker 
Jamie Candee | Chief Executive Officer, Edmentum  
Joe Carroll | SVP, U.S. Bank  
Jodi Chu | Chief Financial Officer, Chu Vision Institute  
Scott Cummings | Market Development Director, Accenture 
Peter Diessner | President, Kraus-Anderson Realty & Development Companies 
Amol Dixit | Director, GWorks Venture Studio, General Mills, Founder, Hot Indian Foods  
Danielle Duzan | Vice President, Human Resources, Polaris 
Ben Eklo | Chief Financial Officer, UnitedHealthcare Medicare and Retirement  
Meredith Englund | Chief Operations Officer, Carbon Origins   
Isa Loundon Flaherty | Senior Public Relations Manager, Microsoft 
Bob Frenzel | Chairman, CEO, Xcel Energy  
Andy Gorski | Vice President of Brand and Promotional Marketing, Best Buy 
Conor Green | Partner, TT Capital Partners  
Lili Hall | President and CEO, KNOCK, Inc.  
Maria Hemsley | Community Leader  
Andy Ho | Principal, Deloitte  
Hoyt Hsiao | President and CEO, Shaw-Lundquist Assoc. Inc.  
Dominic Iannazzo | Partner, Ernst & Young LLP 
Kate Kelly | Regional President, Minnesota, PNC Bank 
Ellie Krug | Founder and President, Human Inspiration Works, LLC 
Chad M. Larsen | Realtor, Berg Larsen Group of Coldwell Banker Realty  
Anne M. Lockner | Partner, Robins Kaplan LLP  
Mary Loeffelholz | Vice President, Airport Customer Service, MSP, Delta  
Trisha London | Community Leader and Counselor, Crisis Text Line 
Wendy Mahling | Senior Vice President, Corporate Secretary & Securities and Corporate Law, Ameriprise Financial  
Kelly Miller | Executive Director, J.P. Morgan Private Bank  
Sonny Miller | Partner, Dorsey & Whitney  
Jeb A. Myers | Interim-President, Cristo Rey Tampa Salesian High School  
Thor Nelson | Chief Financial Officer, Aspen Waste Systems   
Nnamdi Njoku | SVP & President, Medtronic Neuromodulation
Amanda Norman | Community Leader   
Doug Parish | Community Leader 
Angela Pennington | Community Leader  
Maria Wagner Reamer | Community Leader  
Craig E. Samitt, M.D. | Managing Director, ITO Advisors  
Chris Schermer | President, SCHERMER   
Noreen Sedgeman | Shareholder, Winthrop & Weinstine P.A.
Hillery Shay | Vice President Marketing & Communications, Children's Minnesota 
Wendy Skjerven | Vice President, Corporate Secretary and Group General Counsel, Travelers 
Anne E. Stavney | Head of School, The Blake School  
Tanya M. Taylor | Business Leader  
David Van Benschoten | Shareholder, The Advocate Group  
Hannah Yankelevich | Partner, McKinsey & Co.  
Kashi Yoshikawa | Senior Regional Investment Manager, Wells Fargo Private Bank  
Mike Zechmeister | Chief Financial Officer, C.H. Robinson  
Lifetime Board Members: 
Mary Lou Dasburg 
Topsy Simonson