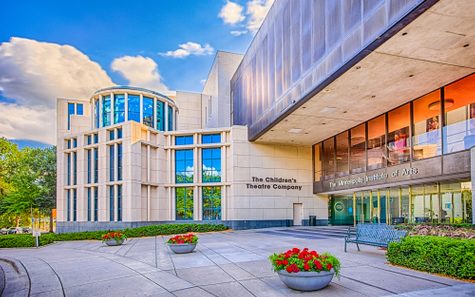 CTC Theatre Fellowship Program
CTC Theatre Fellowship Program
---
Children's Theatre Company is proud to announce our theatre fellowship opportunities for the 2023-2024 season.  The purpose of our fellowship program is to create opportunities for early career theatre administrators with a priority on those whose lived experience is underrepresented in the theatre field.  This season long, full-time, paid fellowship program strives to address economic and institutional barriers to careers in theatre.  CTC is committed to a future where our theatre is a home for all people, all families, and is truly reflective of our community.   
ORGANIZATION DESCRIPTION 
Led by Artistic Director Peter Brosius and Managing Director Kimberly Motes, Children's Theatre Company (CTC) is the nation's leading theatre for multigenerational audiences and is one of the 25 largest producing theatres in the US.  CTC's mission is to create extraordinary theatre experiences that educate, challenge and inspire young people and their communities.  It has set standards of excellence in the quality of its productions, commitment to new work, and innovative education and community partnerships.  CTC's commitment to equity is embodied in ACT One, our cohesive platform for justice, access, diversity, and inclusion in our audiences, programs, staff and board. 
ABOUT THE FELLOWSHIPS 
CTC is seeking candidates who are passionate about theatre and whose lived experience is underrepresented in theatre administration.  We are actively recruiting and welcoming applicants from underrepresented communities including, but not limited to, Black, Indigenous, and People of Color, people with disabilities, and people from the LGBTQIAP+ community, recognizing the value and importance of reflecting the diversity of our community.  We are committed to our core value of inclusion and ensuring a work environment that is free from discrimination.  CTC is an Equal Opportunity Employer that prohibits discrimination in employment against any employee or job applicant because of that person's race, color, creed, religion, ancestry, sex, national origin, disability, genetic information, age, sexual orientation, gender identity, gender expression, marital status, familial status, veteran status, status with regard to public assistance, membership in a local human rights commission or any other legally protected status. 
As a CTC administrative fellow, you will: 
Commit to a 41 to 43 week-long fellowship position in one of three areas:

 
Stage Management (41 weeks)

 

Production Management (41 weeks)

 
Learn from and work with the director of your department and their seasoned professional team

 

Perform essential tasks for your department that range from important day-to-day tasks to longer term projects

 

Be eligible to participate in our employee benefit programs, including health, dental and vision insurance, paid holidays, sick leave and 10 days of paid vacation

 
Participate in staff training and learning opportunities, including anti-sexual violence training, anti-racism/anti-bias training and justice, equity, diversity and inclusion brown bag lunches  

 

Receive an hourly wage of $18.00 for 40 hours of work per week for the full term of the fellowship

 
FELLOWSHIP POSITION SUMMARIES 
Stage Management Fellow 
This position works with Production Stage Manager and Stage Management teams on six show season and events throughout the year.  
Production Assistant on several productions working with stage management team during rehearsals through opening

 
2

nd

Assistant Stage Manager on two large productions during the season

 

Assist Production Stage Manager with daily duties in supporting season 

 
Production Management Fellow 
This role supports the Director of Production in administration of the production department on six productions, fundraising events and building/show rentals.  
Support creative teams and production process with contracting, travel planning, attending production meetings and technical rehearsals

 
Assist with organization and logistics for special events such as fundraisers, new play workshops and education programs

 

Assist with health and safety program, ordering and stocking supplies, maintain records, researching and implementing new policies    

 

For facility space rentals, cost estimating, contracting and coordinating production support

 
Education Fellow 
This position will gain an introductory understanding of developing and implementing school, community, and audience enrichment programs.   
Develop knowledge of curriculum development, pedagogical theory, and practice

 

Support Theatre Arts Training Manager with daily duties and class activities

 

Participate in opening night and patron events during production season

 

Provide support for teaching artists in and out of the classroom

 

Assist in the creation of vibrant classroom and workshop experiences for CTC families

 
Collaborate with marketing team to generate education centered on-line and social media content

 
DESCRIPTION OF MINNEAPOLIS AND THE TWIN CITIES METRO AREA 
Minneapolis and the Twin Cities area has a thriving and vibrant arts scene.  The Twin Cities metro area is one of the largest theatre markets in the country, with over 150 theatres.  Minnesota year in and year out ranks near the top nationwide in federal and state arts funding and has a strong history of private arts philanthropy.   
The Twin Cities area is the second largest economic center in the Midwest and is annually ranked as a top area in terms of quality of life.  Minneapolis is a racially and culturally diverse city, home to several large immigrant communities such as the largest Somali and Hmong diasporas in the US as well as a significant Spanish-speaking population. 
TO APPLY
Please send a resume and a cover letter to Andrew Robertson, Director of Human Resources at jobs@childrenstheatre.org.  Your cover letter should describe aspects of your past academic and/or job experience that you feel are most relevant to this application, as well as describing how you represent a perspective of an underrepresented community in theatre and why bringing diverse perspectives to theatre is personally important to you.  Please include the name of the fellowship position(s) to which you are applying in the subject line of the email. 
FELLOWSHIP TIMELINE 
Application Deadline:  March 31, 2023
Candidate Interviews:  Early to Mid May
Fellowship Offers:  Late May
Fellowship Start:  August 21, 2023
Production Mgmt and Stage Mgmt Fellowship Conclusion:  June 7, 2024
Education Fellowship Conclusion:  June 21, 2024