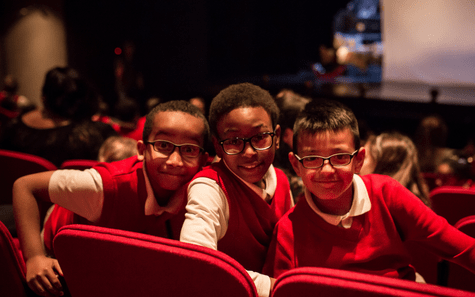 Field Trip Ticket Policies
COVID-19 Safety Protocols for Field Trip Performances
updated: March 21, 2022
To ensure the safety of our patrons, artists, and staff, Children's Theatre Company will continue to require audiences to wear a mask in the theatre and lobby spaces. Masks must cover the mouth and nose and fit tightly to the face (no bandanas, face shields, or gaiters).  Proof of vaccination or a negative test is no longer required to attend a show at CTC.  
 Behind the scenes, we will continue to follow strict protocols to keep our shows on stage and to create a safe work environment for artists and staff. If even one member of our cast or crew contracts COVID-19, it could create a cascading effect of canceled rehearsals and performances. Our efforts are intended to keep our artists and staff healthy, our performances open and engaging, and our audiences safe to fully enjoy their CTC experience. 
Mask Requirements
All guests and staff will be required to wear masks inside the venue. This follows the Centers for Disease Control and Prevention's recent recommendation that everyone should wear a mask indoors regardless of vaccination status. Masks must be worn properly over both your nose and mouth. Bandanas, scarves, face coverings made of sheer or loosely woven fabric, and face shields are not sufficient substitutes for masks. Read the CDC recommendations for approved masks.
Audience Capacity
At this time, no changes have been made to our audience capacity.
Cleaning and Air Filtration Protocols
CTC has established enhanced cleaning and sanitization protocols and has invested in clean air filtration systems, including MERV-13 air filters and IWave ionic air purification systems to all our HVAC systems to maximize the amount of clean, fresh air flowing through our building.
If Your School Has an Outbreak
We ask that you notify us if your school or classroom experiences an outbreak before your field trip so we can reschedule your trip. Please email schools@childrenstheatre.org to notify us and reschedule your trip.
What We Are Asking You to Do
We will require all our staff and audience to wear masks when inside the theatre. The exception will be our performers, who will not be masked while on stage during performances. Please ensure that students & chaperones bring a mask and wear it inside the building.
If possible, eat lunch at school or outside to avoid using CTC lunch space in which students eat in a collective space.
Notify us ASAP if your school or classroom experiences an outbreak before your field trip so we can reschedule your group.
Purchase with confidence! In this uncertain time, we know that plans can change quickly. If circumstances change due to COVID-19, we are committed to rescheduling your CTC experience as soon as we are able to do so.
All CTC staff will be required to wear masks when inside the building. The exception will be our performers, who will not be masked while on stage during performances. All performers will be fully vaccinated.
All CTC staff will have a health screening that includes a temperature check prior to each shift. There will be a designated COVID-19 safety officer at each performance.
CTC artists, backstage crew, and staff will comply with vaccination requirements and testing protocols to further ensure the safety of all guests and company members. At this time, all on-site CTC staff members are 100% vaccinated.
Door handles, light switches, and other high-touch surfaces will be sanitized frequently with CDC and EPA recommended disinfectants.
Hand sanitizer and disinfecting wipes will be available for patron use throughout the lobby and entrance areas.
Lunch space will only be available to a limited number of groups to allow for social distancing and limit unmasked contact between groups. Priority will be given to groups traveling the farthest to the theatre.
Rush tickets will NOT be sold to parents, community members, or students NOT included in your school reservation to limit transmission.
The CTC building has been fitted with MERV-13 HVAC air filters to trap more contaminants and maximize the amount of fresh air circulating in the building. CTC is also installing IWave ionic air purification systems to all our HVAC systems.
All public spaces will be thoroughly cleaned nightly and between each performance, and staff will be sanitizing surfaces consistently throughout the day.
Touchless sinks, soap dispensers, paper towel dispensers, and toilets have been installed to reduce high-touch surfaces in our bathrooms.
Ticketing Policies & Procedures
Submission of a Ticket Request Form is not a guarantee of a reservation. If CTC is able to accommodate your request, a Reservation Confirmation and Invoice will be sent via email within two weeks.
If you do not receive a Reservation Confirmation and Invoice email after two weeks, please contact CTC's School Engagement Coordinator at schools@childrenstheatre.org to ensure your order went through.
A minimum group size of 10 is required to make and maintain a reservation for a Weekday Student Matinee performance.
All Student Matinee sales are final. Paid tickets cannot be refunded or exchanged.
CTC does not provide refunds or exchanges for unused tickets. CTC does not provide refunds or vouchers for anyone absent on the day of performance.
Tickets cannot be resold or given to anyone outside of your organization and cannot be resold for profit.
Lap passes are available for performances on the UnitedHealth Group Stage for students ages three and under. Lap passes are $5 each and can be purchased on the day of the performance.
Lap passes are NOT available for performances on the Cargill Stage (Carmela Full of Wishes and Locomotion) due to fire code limitations.
Final Numbers/Cancellation Deadline
You may drop seats from your reservation or cancel altogether until Final Numbers/Cancellation Deadline, six weeks prior to performance; unless payment has already been made.
After Final Numbers/Cancellation deadline passes, you are responsible for payment for all seats in your reservation.
Student tickets may be added at any time as long as seats are still available.
Payment is due four weeks prior to performance via check, credit card, or cash.
Reservations unpaid upon deadline may be released at CTC's discretion and may forfeit any awarded transportation subsidy funds.
Returned ISF checks will be charged a service fee of $30. Future orders from that organization must be paid by credit card or cash.
CTC does not require a paid deposit to make Student Matinee reservations; however, groups that violate Final Numbers/Cancellation and/or Payment Deadlines may be required to make payment immediately upon reservation or lose Student Matinee eligibility.
Refunds will be issued only if CTC cancels a performance. Groups will be notified via email no later than 7am on the morning of your field trip if the Student Matinee performance has been canceled.