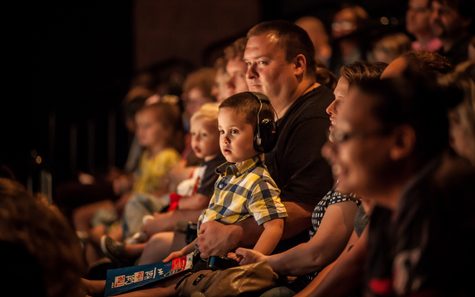 Sensory Friendly Programming
CTC understands that patrons with Autism Spectrum Disorder and Sensory Processing Disorder have unique and varying sensory needs and sensitivities, as may individuals with Post-Traumatic Stress Disorder, anxiety, and other sensory, social, and cognitive disabilities and mental illnesses.
CTC values creating accessible theatre experiences for all individuals in our community and is committed to increasing access and inclusion for individuals with sensory sensitivities.
At our Sensory Friendly performances, sensory modifications are balanced with preserving the engaging theatre experience desired by all children and families.  
What to expect
---
Audience lights left on low throughout the entire performance

 

Overall sound reduction throughout the entire performance; noise-reducing headphones and disposable ear plugs are also available at the Audience Services and Access Desk.

Aspects of productions may be modified for the Sensory Friendly performance. These modifications may include changes to lighting, sounds, and performance qualities such as eliminating strobe effects, lessening the intensity of a sound effect, and modifying actor-audience interaction.

 

Access to the Take-a-Break Space, which is equipped with a variety of fidgets, weighted blankets, and other sensory supports

 

When attending shows on the UnitedHealth Group Stage, access to the Quiet Room, a place that allows the performance to be viewed with some separation from the audience

Additional CTC staff who've received training from Fraser and on-site volunteers from Fraser

 
Audience members are welcome to bring their own manipulatives, seat cushions, comfort objects, and extra support items to the show. Families may select their own seats when purchasing tickets online, but if special assistance or a buffer seat is needed, please contact the Ticket Office at 612.874.0400. 
Pre-Visit Resources
---

Sensory Guides and Social Narratives
A production-specific Sensory Guide and Social Narrative designed to prepare patrons for the experience of attending the production, available online the week of the designated performance. 
Social Story
A Social Story is a written story that shows information about a social situation to convey behavioral expectations and prepare for a new environment. It is a common tool for people with Autism Spectrum Disorders, created to structure social skills, improve appropriate behavior, and increase engagement.
SOCIAL STORY: UNITEDHEALTH GROUP STAGE
Meet Your Seat
Meet Your Seat opportunities are provided to reduce stress and support successful priming for the actual event. To schedule a Meet Your Seat visit prior to your scheduled performance date, email Patron Experience Manager Mon Cherie Chandler at mchandler@childrenstheatre.org.
Sensory Friendly Performances
---

Cookin'
UnitedHealth Group Stage
Get ready to stomp your feet and clap your hands for Korean samulnori drumming, knife throwing, and fire-blowing wizardry in this spectacular show that's truly Cookin'!
Friday, October 13, 3023 at 7pm

Morris Micklewhite and the Tangerine Dress
Cargill Stage
Join the imaginative Morris and his space-animal friends as they travel the galaxy in search of an answer to the all-important question: "Do astronauts wear dresses?"
FRIDAY, NOVEMBER 17, 2023 AT 7PM
Dr. Seuss's How The Grinch Stole Christmas!
UnitedHealth Group Stage
In this CTC holiday favorite filled with music and Seussian rhymes, everyone's favorite grouchy, green Grinch plots the greatest heist imaginable—stealing the very thing the joyful Whos love the most!
FRIDAY, JANUARY 5, 2024 AT 7PM

The Carp Who Would Not Quit and Other Animal Stories
Cargill Stage
Live music, colorful masks, and artful puppetry come together in this energetic retelling of traditional fables from Japan and Okinawa.
FRIDAY, February 16, 2024 AT 7PM

Alice in Wonderland
UnitedHealth Group Stage
With rhymes and ridiculousness, checkerboards and cheeky cats, Mad Hatters and mayhem—and the most absurd tea part in history—this CTC classic will whisk you down the rabbit hole!

A Year With Frog and Toad
UnitedHealth Group Stage
Meet Frog and Toad, best friends who embark upon a year's worth of adventures and joyful song-singing in the only show from Minnesota ever to be nominated for three Tony Awards, including Best Musical!
This season's Sensory Friendly programming is made possible with support from
---