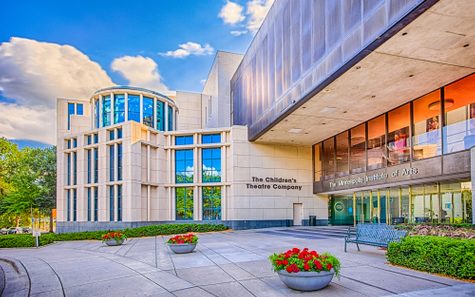 COVID-19 Vaccine & Safety Protocols
CTC is open for live, in-person performances and classes!
At Children's Theatre Company, the safety of our patrons, students, artists, and staff is our highest priority. We developed plans for safe return of everyone to our building, and continue to monitor and follow guidelines and recommendations from the Center for Disease Control (CDC) and Minnesota Department of Health (MDH).
Our COVID-19 Safety Practices & Policies are continually being refined to ensure a safe, clean, comfortable experience for everyone, and practices and plans will be updated as circumstances and guidelines change.
COVID-19 Safety Protocols for Public Performances
---
As of April 23, 2022, to ensure the safety of our patrons, artists, and staff, Children's Theatre Company will continue to require audiences to wear a mask in the theatre and lobby spaces. Masks must cover the mouth and nose and fit tightly to the face (no bandanas, face shields, or gaiters).  Proof of vaccination or a negative test is no longer required to attend a show at CTC.  
The only exception to wearing a mask while at CTC is when eating and drinking in the lobby. Concessions will be available at all public performances of Diary of a Wimpy Kid the Musical and may be consumed in the lobby. Food and beverage will not be allowed in the theatre,  
 If anyone in your party feels sick or shows symptoms of COVID-19, we ask that you please stay at home. Our friendly Ticket Office Associates will work with you to find an alternate performance when you are feeling better.  
 Behind the scenes, we will continue to follow strict protocols to keep our shows on stage and to create a safe work environment for artists and staff. If even one member of our cast or crew contracts COVID-19, it could create a cascading effect of canceled rehearsals and performances. Our efforts are intended to keep our artists and staff healthy, our performances open and engaging, and our audiences safe to fully enjoy their CTC experience. 
We have also set safety standards for our School Field Trips and on-site classes and camps.
Mask Requirements
All guests and staff will be required to wear masks inside the venue. This follows the Centers for Disease Control and Prevention's recent recommendation that everyone should wear a mask indoors regardless of vaccination status. Masks must be worn properly over both your nose and mouth. Bandanas, scarves, face coverings made of sheer or loosely woven fabric, and face shields are not sufficient substitutes for masks. Read the CDC recommendations for approved masks.
Audience Capacity
At this time, no changes have been made to our audience capacity.
Cleaning and Air Filtration Protocols
CTC has established enhanced cleaning and sanitization protocols, and has invested in clean air filtration systems, including MERV-13 air filters and IWave ionic air purification systems to all our HVAC systems to optimize the amount of clean, fresh air flowing through our building.
Contactless Ticketing
Mobile tickets will be issued and contactless ticket scanning will be available for all CTC performances. You can manage your tickets at your convenience through your online account: see all your upcoming dates and seat locations, request ticket exchanges, have your tickets scanned on your mobile device without wasting paper, and best of all, never worry about losing a ticket again!
Simply log into your account on CTC's website, and click on Upcoming Events to see and manage your tickets. Click "View Tickets" to see your actual mobile tickets and seating location in a new tab; this is what our ushers will scan when you arrive for a show.
Trouble logging in? Contact the Ticket Office at 612.874.0400 for assistance accessing your account!
If You Feel Sick
We ask that guests stay home if they feel sick or have been exposed to COVID-19. Please contact the Ticket Office to transfer your tickets to another performance, donate your tickets, or request a refund.
We have also set safety standards for our School Field Trips, on-site classes and camps, and special events.