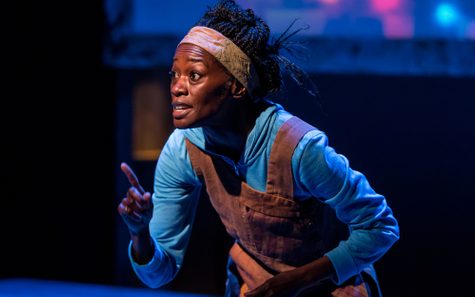 All Access Pass
The All Access Pass is no longer available.

CTC has unveiled a brand new digital All Access Pass that includes all our upcoming digital productions, plus a monthly digest of at-home activities for the young person in your life, as well as for your entire family.
This digest will include creative play activities, mindfulness videos, recipes, theatre games, bite-sized lessons, activities to create theatre at home, and much more.
The All Access Pass is now on sale for only $50 and will provide content January through June of 2021!
The All Access Pass is no longer available.
All Access Productions
---

February 8 – 28, 2021
Best enjoyed by all ages!
A Threshold experience
Created by Zoë Barry, Liz Francis, Nikita Hederics, Tahli Corin and Sarah Lockwood
These artists live and work on the land of the Taungurung people.
---
Come together for an immersive, off-screen theatrical adventure with Mountain Goat Mountain, from Australia's Threshold theatre.
This delightful, audio-led theatre experience for families to share in their home together features guided activities that help families create their characters, setting, props, and costumes before stepping into their own imaginative world. 
Mountain Goat Mountain will take you on a journey that bumps you out of the ordinary and into a world where you work together to uncover its secrets—exploring the forest and rivers of Mountain Goat Mountain and the depths of a mysterious cave. Take this time to make an adventure together that the Sunday Business Post called "An immersive online experience…perfectly pitched." 

March 8 – 21, 2021
Best enjoyed by everyone 8 and up!
Adapted from the book by Paul Fleischman
Directed for the stage by Peter C. Brosius
Filmed by TPT in October 2014
---
A vacant lot in a broken neighborhood in the middle of Cleveland can become a lot of things. A garbage dump. A gathering spot for trouble. How could it ever be a source of hope?
In this stunningly-captured digital production of the play that The New York Times terms "a tour de force," acclaimed actor Sonja Parks plays 11 different characters, including Ana, the nosey neighbor; Curtis, the weightlifter; and Kim, a young girl who plants six very special lima beans.
As the garden grows, so does the community, blooming into something bigger, better, and beyond all expectations. Don't miss this groundbreaking show that toured across Minnesota, the United States, and in Cape Town, South Africa!

Spring 2021
Best enjoyed by all ages
A CTC World Premiere
Created by Autumn Ness
Directed by Reed Sigmund
---
Audrey is a 9-year-old girl…who happens to be the greatest filmmaker in the world!
Possessed by her ambitions and high standards, Audrey is egocentric, demanding, and hilariously extreme. Part Ed Wood, part classic Gilda Radner character, Judy Miller, Audrey creates whole planets, grand stories, music, and special effects…with no budget and no crew.
As Audrey shoots her masterpiece, she struggles with school bullies and constant creative setbacks (like getting grounded!). As she stages the climactic final battle, she uncovers the superpowers she holds within her.
PLUS our All Access Digest
As part of your All Access Pass, our monthly Digest will contain fun information, activities, and video series to keep the learning going at home. Video series include:
---
Create a Play at Home
Children's Theatre Company artists, artisans, crew, and directors will guide your entire family or class through the process of creating your own play or musical at home! Each month, 3-4 videos will be posted taking on a new element to add to your production, such as direction, acting, costumes, scenery, and much more. At the end of the series, we will host a large sharing with All Access families to watch the plays they created!
---
Bite-Sized Lessons
Want to try a theatre class, but aren't sure where to begin, or even which Virtual Academy class to take? Each month, we'll release short lessons for a variety of age ranges that touch on elements of theatre like acting, storytelling improvisation, dance, and more! Learn theatre games you can do with your learning pod or on your next zoom call, go deeper into a script to understand what a character is thinking, feeling or doing—and have a ton of fun while exercising your imagination and flexing your theatre muscles. Lots of new videos released each month!
---
Mindfulness Exercises
As we continue to adapt to new regulations and the back and forth of distance learning and in-person classes, working from home, and so much more, there can be a lot of emotions and stressors for young people and adults alike. Sit down together and incorporate a mindfulness exercise to help regulate emotions, manage stress, and ground and connect you into your day.

Support Us
With contributed revenue accounting for almost half of our organizational budget, your support is more than appreciated – it is critical. You are our greatest advocates and partners in our mission to produce extraordinary theatre experiences that educate, challenge, and inspire young people and their communities.
On our mailing list?
Sign up to learn about upcoming events, get insight into the artistic process, be the first to hear about deals and special offers, and much more!