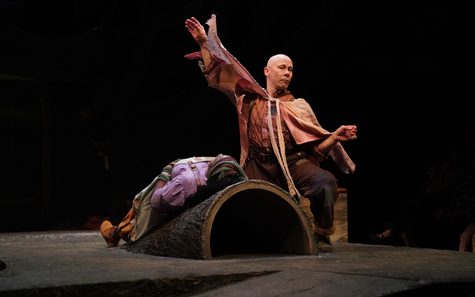 Best enjoyed by Everyone 5 and up
This event has passed.
Written and Directed by Greg Banks
Original Music by Victor Zupanc
This is not your usual "Once Upon a Time." Classic? No. Wild? Yes! To start with, it's a two-person play. Do the math. Snow White and the Seven Dwarves? Two fabulous, whip-smart, super-fast actors play Snow White, the huntsman, the prince, and all seven dwarves! And it's funny. Really, really funny. So expect the unexpected in this fabulous fairy tale with a (spoiler alert) you-won't-see-it-coming twist.
Things to know about the show
This show is performed by two adult actors who portray all 14 characters, sometimes at the same time or switching mid-sentence! Actors use costumes and props to change characters at the drop of a hat.
The show is performed on a super-thrust stage, with the audience surrounding three-quarters o­­­­­f the set. Director Greg Banks chose this layout so the audience could see each other engaging and reacting to the story!
This show closely follows the Brothers' Grimm fairy tale, and contains some moments that may frighten young children, such as Snow White's flight from the Huntsman through the woods.
Run time

75 minutes with no intermission

Best enjoyed by

Everyone 5 and up

Stage

Cargill Stage

Lap passes

Available for children 18 months of age and younger

Audience Resource Guide
---
Articles, conversation starters, and activities both before and after you see Snow White!

Access Services
---
ASL-interpreted, audio-described, and sensory friendly performance are available on select dates.
Concessions
---
We are proud to offer a selection of snacks that are gluten free, vegetarian, vegan, Halal-friendly, and Kosher-friendly.

Plan Your Visit
Children's Theatre Company is proud to offer information, tips, advice and handy guides so that our patrons' theatre experiences are as rich, pleasant and convenient as possible. Whether you have been coming to CTC for generations or are a first time audience member, you'll find everything you need to plan a memorable outing with us.
Reviews

"This "Snow White" succeeds in the way those old Bugs Bunny cartoons used to: It's funny and musical and fast-paced and made for kids, but shot-through with grown-up sensibilities."

"The script is full of knock-knock jokes and other age-appropriate hilarity. It's also smart enough for grown-ups to appreciate."
On our mailing list?
Sign up to learn about upcoming events, get insight into the artistic process, be the first to hear about deals and special offers, and much more!