See all posts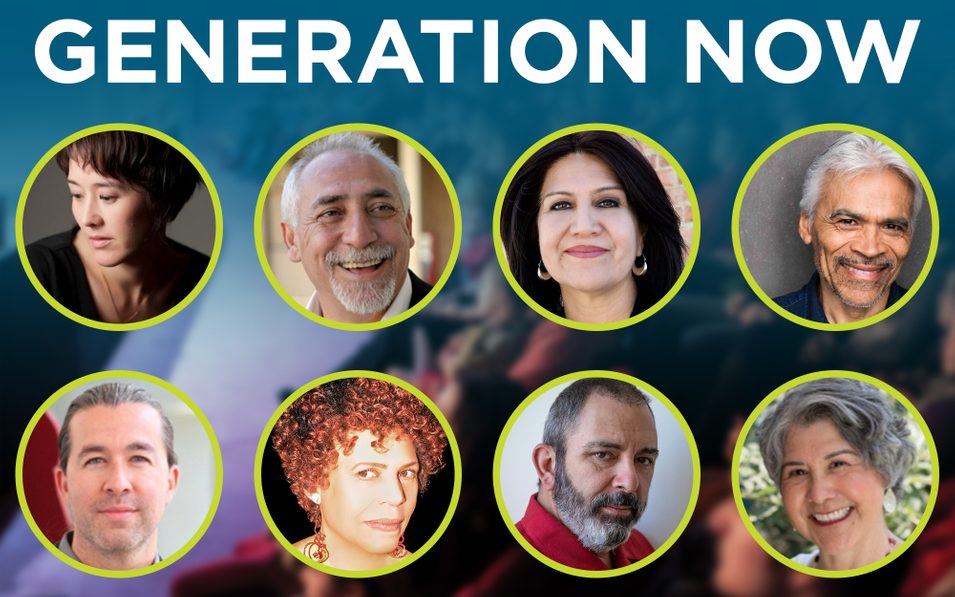 CTC's Commitment to New Works
Posted on October 9, 2023
Children's Theatre Company (CTC) is committed to developing and premiering new works!
Over 200 new plays have been developed at CTC.
Over 90 original CTC plays are currently available for licensing with Plays for New Audiences.
During Peter C. Brosius' tenure, more than 70 new plays and musicals have been commissioned, developed, and premiered at CTC by more than 100 writers.
CTC currently has numerous works in active development, including 16 new plays and musicals by Black, Indigenous, AAPI and Latine writers for multigenerational audiences, as part of the Generation Now partnership between CTC and Penumbra, Latino Theater Company, Mai Yi, and Native Voices at the Autry.
Pictured: (top row from L to R) Michi Barall, José Luis Valenzuela, Evelina Fernández, Sal Lopez; (bottom row from L to R) Dustin Tahmahkera, Ifa Bayeza, Geoffrey Rivas, Lucy Rodriquez
Generation Now
---
The goal of the Generation Now partnership is to expand the canon of work produced for multigenerational audiences and create a model of transformative partnership for the theatre field. With funding received from the Mellon Foundation in 2021, the consortium is committed to co-commission and co-develop 16 new plays by both established and emerging BIPOC artists for multigenerational audiences over five years. The partners strongly believe that if we are to have an extraordinary theatre culture in this country, we must start young, and it must be intergenerational, inclusive, inspiring, transformative, and lifelong.
As part of their landmark partnership, the five Generation Now theatres (Latino Theater Company, Ma-Yi Theater Company, Native Voices, Penumbra, and Children's Theatre Company) have awarded their first round of commissions to four incredible projects. Funded by the Mellon Foundation, Generation Now brings together five nationally ranked theaters to commission and develop new works for multigenerational audiences by both established and emerging BIPOC artists.
The following Generation Now co-commissions are currently in progress:
CTC is working with our partners at Penumbra in developing One Small Alice, a play that combines narratives of the enslaved, underground railroad stories, and Alice in Wonderland.
A recent NYC workshop was held for Drawing Lessons by Michi Barall, CTC's co-commission with MaYi Theatre. This play explores the world of comics and graphic novels.
Dustin Tahmahkera's Comanche Girl on the Moon, CTC's co commission with Native Voices, will receive a workshop in November 2023. Dustin explores legacy, loss and an epic journey to the moon in this moving and comic adventure.
A first draft of Folklorico by Latino Theater Company, which dives into the world of folkloric dance in Los Angeles, is expected soon.