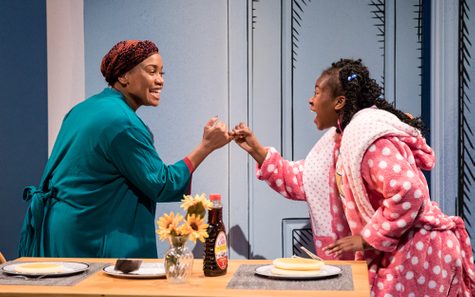 2022 – 2023 Season

Circus Abyssinia: Tulu
Co-created and produced by Mehari "Bibi" Tesfamariam
Co-created and directed by Binyam "Bichu" Shimellis
Choreography by Tamerat Ejeta and Binyam "Bichu" Shimellis
September 13-October 23, 2022
UnitedHealth Group Stage
Best enjoyed by all ages
A Children's Theatre Company American Premiere Production
World-famous Circus Abyssinia returns by popular demand! Witness the energy and spectacle of their newest show, packed with high-flying acrobatics, hand balancing, and juggling, in this dazzling celebration of athleticism and the power of speed!

Carmela Full of Wishes
Adapted by Alvaro Saar Rios
From the book by Matt de la Peña, illustrated by Christian Robinson
Published by G.P. Putnam's Sons Books for Young Readers
Directed by Tatyana-Marie Carlo
October 18-December 4, 2022
Cargill Stage
Best enjoyed by everyone ages 5 and up
When Carmela finds a dandelion on her birthday, she makes several wishes—for a candy machine, a new bed for Mami, and for Papi to be able to come home soon. When her dandelion is accidentally crushed before she can make her biggest wish, can her brother help her to believe in wishes again?
Carmela Full of Wishes is presented through special arrangement with and all authorized performance materials are supplied by TRW Plays; 1180 Avenue of the Americas, Suite 640, New York, NY 10036. www.trwplays.com

Dr. Seuss's How the Grinch Stole Christmas!
Based on the book How the Grinch Stole Christmas by Dr. Seuss
Book and lyrics by Timothy Mason
Music by Mel Marvin
Directed by Peter C. Brosius
Choreography by Linda Talcott Lee
November  8, 2022-January 8, 2023
UnitedHealth Group Stage
Best enjoyed by all ages
A Children's Theatre Company Original Production
In this holiday favorite filled with music and Seussian rhymes, the Grinch conceives a dastardly plot to destroy the Whos' beloved holiday—until tiny Cindy Lou extends a hand. Will her combination of kindness and community change the course of Who-History, and the size and capacity of the cantankerous Grinch's heart?
Locomotion
Written and adapted for the stage by Jacqueline Woodson
Directed by Talvin Wilks
January 24-March 5, 2023
Cargill Stage
Best enjoyed by everyone ages 9 and up
Uprooted from his family, Lonnie couldn't feel more alone. But when his class learns to write poetry, his verses take him back to a time of togetherness. As he finds his voice as a poet, Lonnie learns how poetry can bring him closer to others and himself.

Corduroy
Based on the Corduroy and A Pocket for Corduroy books by Don Freeman
Adapted for the stage by Barry Kornhauser
Directed by Peter C. Brosius
February 14-April 2, 2023
UnitedHealth Group Stage
Best enjoyed by everyone 4 and up
A Children's Theatre Company Original Production
Oh no, Corduroy's button has gone missing! Join the beloved teddy bear as he takes a rollicking ride up the escalator and begins a delightfully destructive romp through every section of the department store. Will he find his button at the top of a teetering store display, or will the bumbling security guard catch him before kindhearted Lisa can give him a home?

An American Tail the Musical
Book and lyrics by Itamar Moses
Music and lyrics by Michael Mahler and Alan Schmuckler
Based on the Universal Pictures/Amblin Entertainment animated film
Directed by Taibi Magar
April 25-June 18, 2023
UnitedHealth Group Stage
Best enjoyed by all ages
A Children's Theatre Company Commissioned World Premiere Production in association with Universal Theatrical Group
In this riveting new musical based on the beloved animated film, optimistic young Fievel Mousekewitz escapes Russia by boat, making his way as a new immigrant in the vast city of New York. Despite everything stacked against him, Fievel clings to his dreams of a better life and reuniting with his family. Are they Somewhere Out There?

2022 – 2023 Season
Subscribe & Save
---
See what happens when people step beyond themselves and leap into the unknown! Find out what's waiting for you on the other side—new friends, shared laughter, and joyous memories. Witness acts of bravery come to life before your very eyes and discover your own tremendous courage along the way.
Step into this exciting world of tremendous courage when you subscribe! Get the best seats at the best prices, save on Theatre Arts Training classes and camps, enjoy unlimited no-fee exchanges, and more!
2022 – 2023 Season Sponsors
---


On our mailing list?
Sign up to learn about upcoming events, get insight into the artistic process, be the first to hear about deals and special offers, and much more!