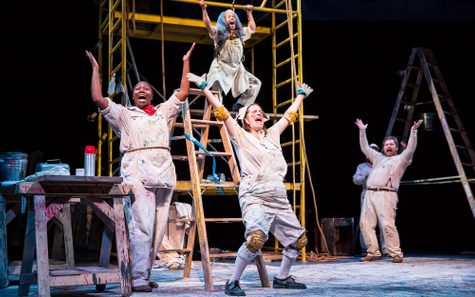 Group Sales
Do you have partners to support, employees to thank, or family members to entertain? CTC offers the opportunity for groups to experience extraordinary theatre that educates, challenges, and inspires! CTC's Group Sales opportunities are scaled to fit the level of involvement and budget of every group we serve so you can dazzle your constituency in unique and unforgettable ways. 

Group Sale Options
Any group of 15+ enjoys our standard group discount of 20% off single ticket prices.
Groups of 15 to 20 can book and pay immediately online, and save 20% automatically—a great option for family and friend groups. To save on service fees, give our Ticket Office a call at 612.874.0400!
For groups of 20 to 99, CTC offers the convenience of reserving seats now and paying a lump sum 4 weeks prior to your performance.

Or, we can set up an exclusive discount link for your guests so they can pick the seats they want and submit payment directly to CTC! This option is popular with our smaller community and corporate groups. 

Planning a corporate event?

For groups of 100 or more, CTC can provide an exclusive link that allows you to split ticket costs with your patrons, and sell tickets up to 2 weeks prior to your performance. Or, treat your employees to a night at the theatre with a private performance! *Limited availability, minimum ticket commitment of 545 required for private performance option.
Does your organization serve low-income youth, mentors, and families? We invite you to apply for our ACT Pass Group program, where your members can get tickets to select performances for just $5 each! 
To get started on your group sale, contact Ticket Office Manager Joshua Vosberg at josh@childrenstheatre.org.
Planning Your Outing
---
We know planning a group outing is a huge responsibility, so try these helpful planning tips: 
We recommend arriving 30-45 minutes before curtain. Latecomers are seated at the discretion of theatre management. Please allow extra time for parking (20 minutes is recommended).
Please distribute the tickets to each member of your group before approaching the lobby rope. Distribute the tickets according to seat number, not ticket type; it is okay to for a child to hold a ticket marked 'Adult' and vice versa.
Use our downloadable tracking sheet and UnitedHealth Group Stage Seating Chart below to help you plan your group's seating arrangement!
If the Group Tracking sheet was not sent to CTC ahead of time, CTC is NOT responsible for reprinting lost or forgotten tickets for individual group members or families who are attending as a part of a larger group, as we have no way of knowing what tickets they were meant to use.
Frequently Asked Questions
---
When is final payment due? 
When booking through a Group Lead, final payment and final numbers are due 4 weeks prior to your scheduled performance date. If payment is not received by that time, the order will be canceled. Refer to your order confirmation or call 612.872.5180 if you are unsure of your due date. If the initial ticket order is made within the 4 week deadline, payment in full will be due at the time of reservation. 
When booking through a private link, payment is due at time of purchase for each member of your group.
How do I submit payment for a Group Lead group sale? 
A credit card is the preferred method of payment. Please call 612.872.5181 (Ticket Office Manager Josh Vosberg) or 612.874.0400 (Ticket Office line) to submit payment. You may also remit a check to the below address. Checks must arrive no later than the payment deadline listed on your invoice. 
Children's Theatre Company
Attn: GROUP SALES
2400 Third Avenue South
Minneapolis, MN 55404
We do not allow individual group member payments for Group Lead group sales. Please note that public group tickets cannot be paid for with a Purchase Order.
What is your cancellation policy? 
Once a payment has been made on a group order, it is considered a final sale. No refunds will be permitted.
What if our numbers drop from our initial reservation? 
Up until final payment is made on a Group Lead group sale, you have the ability to adjust your numbers, change dates, or even cancel the order. Once final payment is made, it will be considered a final sale; no refunds, exchanges, or cancellations will be permitted. 
What if our numbers grow from our initial reservation? 
As long as there are tickets available in the performance, you can absolutely add on to your existing order. As an added benefit, additional group tickets will not be subject to any price increases that have occurred since the initial reservation date. Seating locations will be subject to availability at the time they are added; CTC cannot guarantee that additional tickets will be available adjacent to the existing seats in the order. Call 612.872.5180 for assistance. 
Can I return any tickets for a refund? 
No, once you provide final payment, it is considered final sale. No refunds, exchanges, or cancellations will be permitted. 
Can I exchange my group tickets?
Tickets booked through a group lead are non-exchangeable; tickets booked through a private link may be exchanged, but the group discount will not carry over to the new tickets.
Does everyone in my group need a ticket? 
CTC's policy is that everyone coming into the theatre must possess either a ticket or a lap pass, regardless of age or position. This includes infants of any age. Group leaders may purchase lap passes in advance as part of their order.